Event #204-33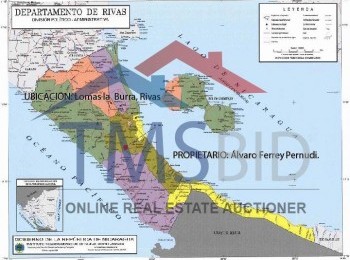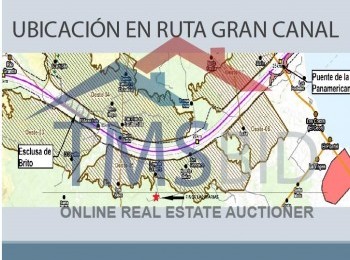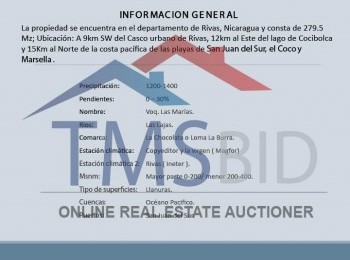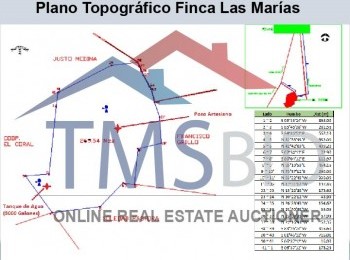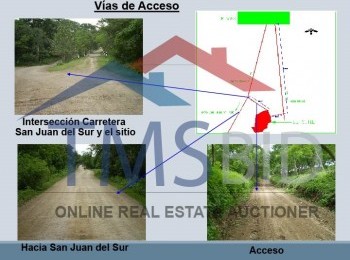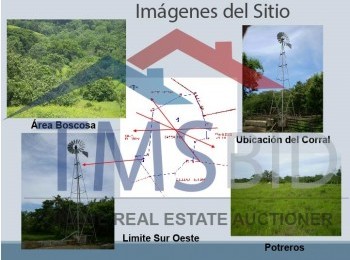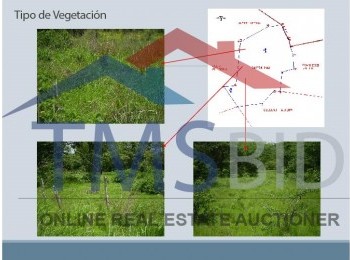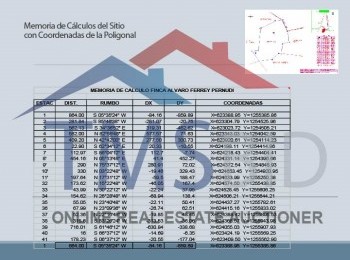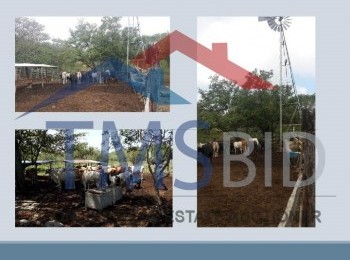 Sobre la carretera La Chocolatada
Comunidad Loma las Burras
Rivas
Nicaragua
View Map
Land
Lot Size: 1,883,804 m2
Description
This is a rural property, dedicated to fattening cattle. Half of the property is flat and the other part is rolling. It has an area of 269.54 Mz and is located 8km from the town of Rivas. The property has 24 protreros with divisciones, 2 artesian wells with windmills and 1artesian well with submersible pumps. There is a rustic house for workers and pens for livestock management, with its sleeve to work cattle. 4 x water for won. Improved pasture and with wooded ravine. Fenced with barbed wire and electric fence.
Es una propiedad rural, dedicada al engorde de ganado, la mitad de la propiedad es llana y la otra parte es irregular con poca pendiente. Tiene una área de 269.54 Mz (187.79 hectáreas). Está ubicada a 8km de la ciudad de Rivas. La propiedad tiene 24 potreros con sus divisiones, 2 pozos artesanales con aeromotores. 1 pozo artesanal con sus bombas sumergibles. Una casa rústica para los trabajadores. Corrales para el manejo del ganado, con su manga para trabajar el ganado. 4 pilas de agua para el ganado. Toda empastada con pasto mejorado. Con quebrada arborizada. Cercas con alambre de puas y cerca eléctrica.
Downloadable Documents
Auction Information
Property Information
Title and Escrow
Viewing Schedule
If you would like to visit this property, please complete and submit the Temporary Access Agreement
You will need a registered account and be 'Signed In' to view and complete the document.
Once you have submitted the agreement, please contact the Property Representative to set up an appointment.
Financing

The Preferred Lender for this event is The Mortgage Store. Although you may seek financing from any source and include a financing contingency with your Tender Offer, The Mortgage Store is very familiar with the property and is prepared to provide you, subject to their prequalification process, with a pre-approval letter which you can then submit along with your Tender Offer on the property of your choice. A pre-approval letter from a reputable, property knowledgeable lender such as The Mortgage Store will carry considerable weight when the property owner reviews your Tender Offer.
If you would like to be contacted by the Preferred Lender, please complete the form below to submit your contact information directly to their representative handling this Tender OfferTM who will respond in a timely manner.


For further details about Financing, please read the Terms and Conditions of Sale located in the Documents section or contact the FRE.com Support Team.
You are under no obligation to prequalify with The Mortgage Store.
To view the form, please Log In.
All information contained on FRE.com and dispensed by the Support Staff, Property Representative and other agents of the Seller is from sources deemed reliable and is not warranted or guaranteed by the Seller, its partners or related companies, LFC Communications, Inc., LFC Internet Marketing, Inc., LFC Marketing Services, Inc., or any of their agents. Buyers shall rely entirely on their own judgment and inspection.
What is a Tender OfferTM?
An online program where prospective property buyers and their agents can submit offers, including price and contingencies along with supporting documentation. The property seller may provide offer parameters including pricing guidance, minimum earnest money deposit, maximum length of the due diligence period and stipulated contingencies. To begin just click the Submit Tender Offer button or contact the Event Manager below.
All information is transmitted using Secure Sockets Layer (SSL) protocol and stored on secure servers.
Questions or Assistance?
pop
How to Buy
Setup a free user account

Free registration with no obligation. Your account provides access to additional information and documents, as well as email updates.

Search & Select

Our website features different assets - Real Estate and REIT shares. Utilize our advanced search criteria to narrow down your selection.

Review Information

Access property information to make better-informed decisions. Available information varies depending on each real estate asset type.

Submit Deposit (if required)

Prior to placing a bid or tender offer, you may need to submit a deposit. Deposits can be submitted using credit card, wire transfer or check.

Place Online Bid or Tender Offer

Place bids/offers on your selected asset prior to the deadline. Specifics vary for each asset.

Winner is Declared

Buyer deposits purchase funds, and closing coordinator assists Buyer and Seller with final paperwork.
BID/TENDER OFFER NOT ACCEPTED
Your bid is below the minimum bid of
US $1,100,000
BID/TENDER OFFER NOT ACCEPTED
Your bid must be at or above the next acceptable increment.
CURRENT HIGH BID:
US $0
Minimum Bid Increment:
US $20,000
BID/TENDER OFFER NOT ACCEPTED
Your bid must be at or above the next acceptable increment.
CURRENT HIGH BID:
US $0

per share for shares.
Minimum Bid Increment:
per share
SIGN UP FOR INSIDER ALERTS !
Be the first to hear about New Properties, REITs & other Industry News.*
*We guarantee we will never sell or misuse your information.