Event #178-1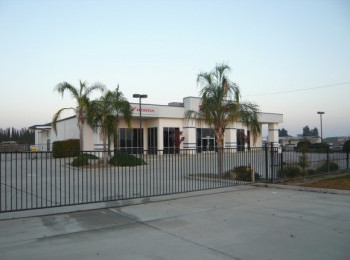 Bidding Format: Last Call
3809 N Mooney Blvd
Tulare, CA 93274
Tulare County
View Map
Commercial Property
Lot Size: 1.37 acres
Interior Space: 14,688 ft2
Description
BANK OWNED:
Approximately 14,688 square feet of building located on 1.37 acres (59,677 sq ft) of improved land. Site is located on the west line of Mooney Blvd just north of Avenue 252, roughly one-half mile north of the City of Tulare. The parcel is level in topography and at street grade. It has an interior orientation with frontage on Mooney Blvd. The frontage is a four-lane asphalt paved roadway that is improved with concrete curb, gutter and sidewalk. The roadway is divided with a concrete median. Water is via underground well and sewer is via septic tank and leach field. Public utility companies provide telephone, gas, and electric services at prevailing rates. The nearest schools are Liberty Elementary School, Live Oak Middle School and Tulare County Organization For Vocational Education.
Visibility:
The property has excellent visibility and signage along major arterial, Mooney Boulevard and carries heavy traffic volume. Caltrans lists traffic counts on Mooney at 17,400 cars per day on average. Mooney Blvd connects Tulare to Vasalia and is a main transit corridor between the two cities.
Zoning:
The property is designated within a Planned Service Commercial District (C-3/SR) by the County of Tulare. The C-3 district is broad based commercial designation that permits a wide range of uses. The SR portion is a site plan review tag that gives the county a degree of development control over proposed projects. Permitted uses include offices, shop buildings, warehouse buildings, storage yards and sale facilities. The property is a permitted use in this district.
Improvements:
The site is currently improved with a dealership facility and ancillary site improvements. The construction features are described as follows:
Exterior:
Reinforced concrete footings and a concrete slab floor. Pre-engineered steel frame with painted metal siding and a metal roof. Aluminium frame glass storefront provides entry to showroom and offices. Two 14-foot metal roll-up doors that provide access to shop. Heating and cooling for showroom and offices via rooftop mounted dual pack HVAC units. The service department is cooled by rooftop evaporative coolers while radiant heaters provide heat.
Interior:
The interior is demised into a showroom, sales counter, offices, break room, restrooms, parts department, service department and shop space. The showroom has an open ceiling with insulation, drywall partitions, mercury vapor lighting, and a combination of sealed concrete and carpeting. The offices are adjacent to the showroom and include interior facing windows, drywall partitions, carpeting and fluorescent lighting. There are two restrooms that have ceramic tile flooring, drywall partitions with ceramic tile and fluorescent lighting. The break room has vinyl tile flooring and a built-in laminate counter-top with stainless steel sink and wood cabinets. Parts storage consists of an open warehouse like room with concrete floor and open ceiling. There is a 31-foot by 110-foot portion at the rear of the building that is essentially shop space. It has concrete flooring, insulated walls, insulated ceiling, and mercury vapor lighting.
Site Improvements:
The driveways and parking lot are concrete paved. There are a total of 20 marked stalls, which is adequate for the existing use. There is landscaping along the frontage and at the front of the building. It includes grass and planter beds with rack, trees and brushes. The entire perimeter of the site is fenced. There is wrought iron fencing along the frontage and six-foot chain link fencing around the remainder. There are two entrance gates from the frontage. There are two metal storage tanks for fire suppression.
Design and Appeal:
The design of the property is contemporary. Aside from the dealership users, the subject would have appeal to a wide range of service or light industrial industrial orientated users as the layout is not overly specialized.
The subject is also identified as Assessor's Parcel Number 149-050-037 by Tulare County.
___________________________________________________________________________________________
For more details please click on the 'Property Documents' button where you will find property-specific information. You must be registered in order to obtain access to these documents.
All information provided by Lunnen Development and CBRE Broker license #01273287 and dispensed by the Broker, Property Representative and other agents of the Seller is from sources deemed reliable and is not warranted or guaranteed by the Seller, its partners or related companies, CBRE or Lunnen Real Estate Services, Lunnen Development, or any of their agents. Buyers shall rely entirely on their own judgment and inspection.
Downloadable Documents
Auction Information
Property Information
Purchase and Sale
Title and Escrow
Viewing Schedule
If you would like to visit this property, please complete and submit the Temporary Access Agreement
You will need a registered account and be 'Signed In' to view and complete the document.
Once you have submitted the agreement, please contact the Property Representative to set up an appointment.
Financing
There is not a Preferred Lender for this auction. You may not include a financing contingency with your bid.
If you choose to obtain financing from a third-party lender and the third-party lender is unable, for any reason, to provide you with a loan, then your bid shall be considered an ALL-CASH offer.
If you intend to purchase the property ALL CASH, you will be required to provide proof of verifiable funds prior to the offer deadline.
For further details about Financing, please read the Terms and Conditions of Sale located in the Documents section or contact the FRE.com Support Team.
Broker of Record for this property: Lunnen Real Estate Services, CA license #01716571
All information contained on FRE.com and dispensed by the Support Staff, Property Representative and other agents of the Seller is from sources deemed reliable and is not warranted or guaranteed by the Seller, its partners or related companies, LFC Communications, Inc., LFC Internet Marketing, Inc., LFC Marketing Services, Inc., or any of their agents. Buyers shall rely entirely on their own judgment and inspection.
Bidding Questions or Assistance?
Property Representative
Jeff Lunnen
Lunnen Real Estate Services
Phone: (949) 279-5645
Cell: (949) 661-8150
Fax: (949) 466-0836
Email: jeff@lunnen.com
pop
How to Buy
Setup a free user account

Free registration with no obligation. Your account provides access to additional information and documents, as well as email updates.

Search & Select

Our website features different assets - Real Estate and REIT shares. Utilize our advanced search criteria to narrow down your selection.

Review Information

Access property information to make better-informed decisions. Available information varies depending on each real estate asset type.

Submit Deposit (if required)

Prior to placing a bid or tender offer, you may need to submit a deposit. Deposits can be submitted using credit card, wire transfer or check.

Place Online Bid or Tender Offer

Place bids/offers on your selected asset prior to the deadline. Specifics vary for each asset.

Winner is Declared

Buyer deposits purchase funds, and closing coordinator assists Buyer and Seller with final paperwork.
BID/TENDER OFFER NOT ACCEPTED
Your bid is below the minimum bid of
US $655,000
BID/TENDER OFFER NOT ACCEPTED
Your bid must be at or above the next acceptable increment.
CURRENT HIGH BID:
US $645,000
Minimum Bid Increment:
US $10,000
BID/TENDER OFFER NOT ACCEPTED
Your bid must be at or above the next acceptable increment.
CURRENT HIGH BID:
US $645,000

per share for shares.
Minimum Bid Increment:
per share
SIGN UP FOR INSIDER ALERTS !
Be the first to hear about New Properties, REITs & other Industry News.*
*We guarantee we will never sell or misuse your information.